emPowerIR®
emPowerIR® is the first cloud-based, comprehensive stakeholder communications solution designed for public and private companies. emPowerIR® provides boards of directors and the executive team a platform to build and maintain relationships with the organizational stakeholders. emPowerIR® is a conduit into stakeholder engagement activity and is an oversight vehicle that makes valuable information readily available to the board and C-Suite in real time.
Upload historical stakeholder records in minutes.
Generate global stakeholder reports including:
Global Shareholder ID
Top Holders
Corporate Development
Demographic and Regional stakeholder data
Annual meetings, employee meetings … any large group meeting:
Instantly broadcast to an unlimited audience via FacebookLive or YouTube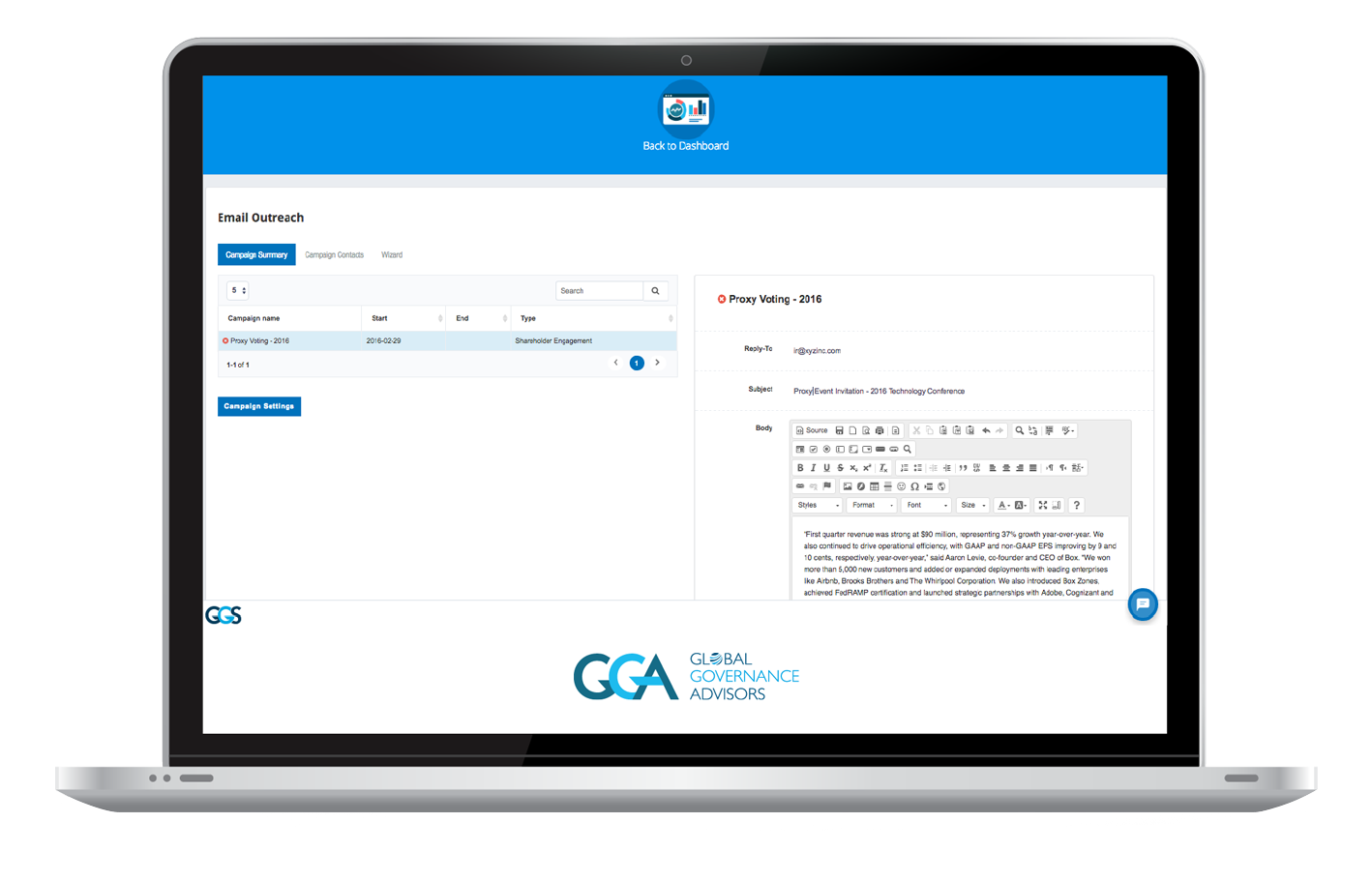 Automated Proxy/Survey Tabulator changes how organizations gather intelligence of their shareholders and stakeholders. Easily, survey shareholders or subsets of shareholders. Ease the burden of your investor relations team, dramatically reduce the cost of polling your shareholders/stakeholders and take a bold step around corporate social responsibility by reducing your carbon footprint.
Submit proxy votes, surveys, and questionnaires (including Say on Pay) through emPowerIR®.
Use engagement analytics to connect with one of your organization's most important stakeholders – your employees.
Use the emPowerIR® automated tabulator and save tons of time.
No need to manually tabulate votes or responses to surveys.
emPowerIR® is your organization's stakeholder CRM. You are able to launch tailored campaigns directed at targeted stakeholder communities.
Notice & access hosted proxy site.
Electronic delivery of material stakeholder information.
Engagement analytics.
Contact look-up services for retail shareholders.
emPowerIR® is fully compatible with market data feeds and intermediary stakeholder/shareholder records. Increased transparency, accountability and shareholder activism are factors that have redefined the corporate governance landscape. GGA's dedicated team of analysts are available to work hand-in-hand with your organization to plan and execute on engagement objectives for both institutional and retail shareholders campaigns.
The emPower platform
The emPower digital boardroom is transformational – the only HCM solution focused on boards of directors and the executive team. The emPower platform revolutionizes how board of directors and executives approach their roles and responsibilities. Its three modules – emPowerBoards®, emPowerHCM® and emPowerIR® – transcend board management tools.  The emPower platform is the only cloud-based solution that weaves AI and data analytics. The platform includes prepopulated Board evaluations & D&O questionnaires, secure messaging, stakeholder and employee engagement surveys and analytics and video conferencing (which records board meetings and provides transcripts of meetings) standard within the platform.  The emPower platform builds compensation plans for high-performing executive teams and manages shareholder relations while ensuring corporate governance, regulatory compliance and risk mitigation.
emPower is the most secure digital platform in the market place. At no time does emPower reside on a PC, laptop, tablet or smartphone – all of which can be hacked, stolen, lost, or damaged.
emPower is a true cloud application. Clients receive a logon and password and can access emPower from any device, anytime, anywhere, and then … GO LIVE! The emPower smartphone application is accessed from the Apple or Droid store and is dynamic. If a user can use a smartphone, he or she can use emPower.
The emPower Platform – Transformative, Agile, Secure
Revolutionizes how board meetings are conducted, the first full-service software solution dedicated to making boards more impactful on organizational success.
Provides current peer compensation data and scorecards to develop effective senior management incentive plans.
Builds and maintains relationships with company Stakeholders (including proxy and/or survey tabulation).