emPowerHCM®
emPowerHCM® is the first cloud-based, comprehensive solution designed exclusively for boards of directors and senior management teams. emPowerHCM® is a data analytics application that provides current peer compensation data and scorecards to develop effective senior management incentive plans. emPowerHCM® users have access to more than 30,000 company incentive plan details to design, benchmark and scorecard their senior management compensation/incentive plans. Some cool features include:

Template Scorecards

Scorecard Reporting

Customized Peer Groups

Pay for Performance Reporting

Top 5 NEO Benchmarking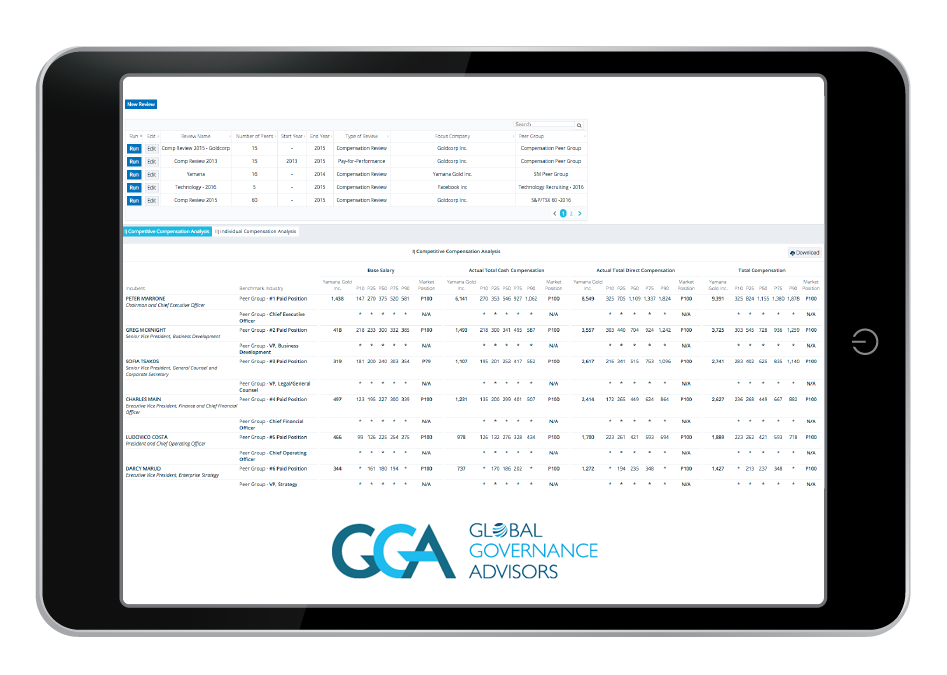 GGA works solely for the board, in collaboration with senior management. Our organization successfully provides expert, state of the art compensation and governance advice without apparent or perceived conflicts of interest. Our Executive Compensation consulting practice implements comprehensive reviews to ensure pay-for-performance linkage, fulfillment of disclosure requirements and the optimum alignment of compensation to corporate strategy. We provide rigorous competitive assessments of pay levels for Chairman, Committee Chair, Committee Member and Board Director positions. These assessments include key financial metrics relative to peer groups in terms of retainer, meeting fees and equity compensation. GGA's executive compensation practice includes:
Compensation Strategies
Executive Compensation Fairness Options
Competitive Market Research
Annual and Long-Term Incentive Plans
Senior Executive Employment Contracts
Forensic Compensation Accounting Review
Succession Planning
The emPower platform
The emPower digital boardroom is transformational – the only HCM solution focused on boards of directors and the executive team. The emPower platform revolutionizes how board of directors and executives approach their roles and responsibilities. Its three modules – emPowerBoards®, emPowerHCM® and emPowerIR® – transcend board management tools.  The emPower platform is the only cloud-based solution that weaves AI and data analytics. The platform includes prepopulated Board evaluations & D&O questionnaires, secure messaging, stakeholder and employee engagement surveys and analytics and video conferencing (which records board meetings and provides transcripts of meetings) standard within the platform. The emPower platform builds compensation plans for high-performing executive teams and manages shareholder relations while ensuring corporate governance, regulatory compliance and risk mitigation.
emPower is the most secure digital platform in the market place. At no time does emPower reside on a PC, laptop, tablet or smartphone – all of which can be hacked, stolen, lost, or damaged.
emPower is a true cloud application. Clients receive a logon and password and can access emPower from any device, anytime, anywhere, and then … GO LIVE! The emPower smartphone application is accessed from the Apple or Android store and is dynamic. If a user can use a smartphone, he or she can use emPower.
The emPower Platform – Transformative, Agile, Secure
Revolutionizes how board meetings are conducted, the first full-service software solution dedicated to making boards more impactful on organizational success.
Provides current peer compensation data and scorecards to develop effective senior management incentive plans.
Builds and maintains relationships with company Stakeholders (including proxy and/or survey tabulation).